10 Steps to writing a kick-ass article. (h1)
How to properly notate an image. And why you absolutely must.
(Tip 3)


How to notate an image.
(Tip 3)
---
Scroll to menu would be awesome here. Link to Tutorial
---
Some things to consider before writing a kick-ass article (h2)
Choosing a topic for my blog (h4)
Choosing a topic for your blog has never been easier. With the power of Google, you can kill two birds with one stone. Searching for your industry with "blog." You can easily generate content and harvest the information for your own blog without stepping on the toes of other bloggers. This may not seem relevant, but blogging about your services may be a great way to generate consistent back-links. This also helps facilitate more visibility with search engines. If you're dedicated to doing it 100% solo, just follow this format and you should be fine.
If you're struggling to find content, look at what the other people in your industry are blogging about. Don't worry about sharing your secrets. DIY'ers will find the information with or without you. Why not boost your ranking when they find the desired search results?
Examples (h5)
Landscaping Company (h6)
Search: Landscaping blog
Take notes on key elements of blogs found.


(This is a quote block.)
Conclusion (h5 underlined)
What were the topics? How long was it? Was it well organized? These are questions you need to ask yourself. One major consideration is to read this entire article and apply what you've read to the blogs you're using for research. Other blogs may be informative but contain a lot of spelling errors or bad formatting. These are all opportunities for you to produce something relevant to your audience with maximum visibility.

Don't feel bad about being inspired by another person's work. You have your own voice, but you can use others' to help you build it. If you really want to feel like you're not stepping on their toes, say it! There is nothing wrong with admiring the work of a peer or mentor. Acknowledge them in your post and let them know how much you appreciated all their content. If they are a decent marketer with a passion for results, they will see the inbound traffic and personally thank you. You may even get a back-link out of it.

(If not, then there is still room for you with the audience they aren't serving)
Asking the right questions for your audience (h4)
In your article you have headers. These headers should typically be structured as a question. This serves many purposes. One of the main purposes is to pack in a statement for SEO keywords. The secondary purpose is to genuinely show your audience that you are taking variables into consideration. The trick is to make the secondary purpose primary while maintaining keywords.



---
Step 1: Understand your keywords and how they're used. (h3)
Images are a fantastic way to visually organize for readers
(Tip 4)
What are keywords? (h4)
I always recommend Wikipedia if you're searching something for the first time. Wikipedia has been a fantastic avenue for introducing myself to new subjects over the years. Despite their early criticism, I strongly support crowd-sourced data and the ability to spread information for free or reduced cost.

Keywords are single words or strings of words that are commonly used on search engines. Search engine optimization or "SEO" is made up of many components, one of which is structuring each section to reflect common keywords which may yield better search ranking.
Why are keywords important? (h4)
Keywords are crucial in whether or not people can find your website. Proper indexing ensures that Google is showing you to the people who are looking for you. Google can't do this unless it finds the right keywords in the right places. We will elaborate on that more in the next section.
How many keywords should I use? (h4)
The number of keywords is less critical than their usage. Google will evaluate whether the content in your paragraphs is relevant to your headers and relay that information back to its ranking system.
It has long been assumed that you should use a keyword over and over until your article is exploding with nonsense. This method is not only untrue, it's harmful to your ranking. If you feel like you've overdone the keywords, Google will probably detect it.
Keywords should be placed in a manner that reflect what it is you're saying. Sometimes when writing an article, I will go back through to make sure I'm not being repetitive or to make sure I have relevant information under the correct headers. Don't let your ADD get the best of you. Make a structured list on paper if you have to.
---
Tip 2: Utilize your keywords
Step 2: SEO for headers (h3)
Alt tags = SEO for images.
(Tip 4)
How do I use Keywords in a title? (h4)
Always structure your statements with keywords. In the earlier title, "Tip 1: Utilize your keywords," the main keyword present is "keyword." Consider adding other popular terms and synonyms for your headers. I'm talking about the importance of keywords. In order for Google to index the important information on the page it has to be able to understand the title.
Thesaurus.com is a fantastic resource for finding other words that are often used in place of the ones you're currently using. Expanding your library can exponentially increase your visibility.
Why aren't my keywords working? (h4)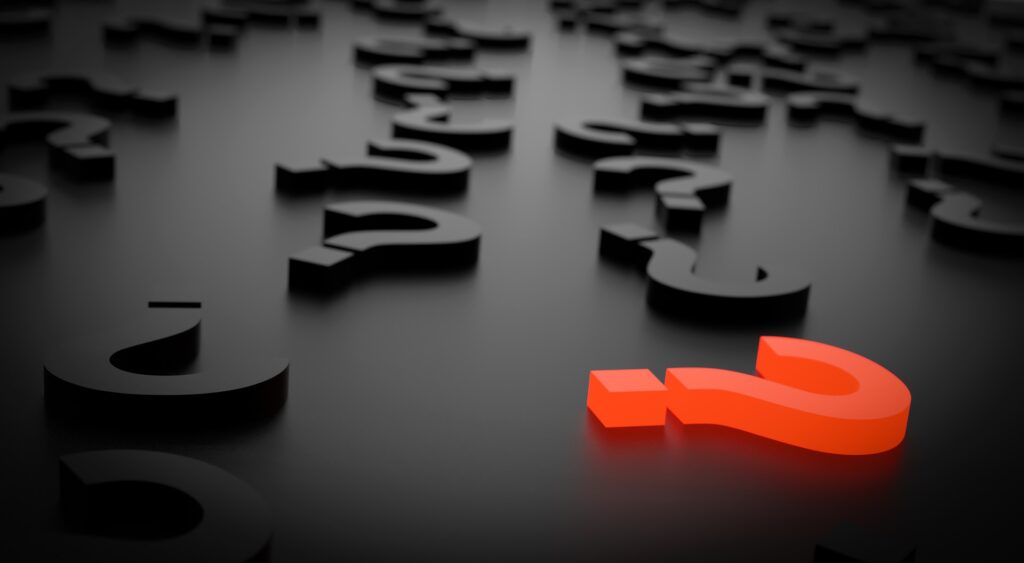 With the original line "Tip 1: Utilize your keywords," you can expect to gain some ranking for the composition of the following keyword search terms:

Keyword tips
Tips for Keywords
Tips for utilizing Keywords
Utilizing Keywords
Keyword Utilization
From this you can surmise that there are around 5 variations that can be used to find your service/product/article. Being aware of and understanding this information is very valuable when structuring any website.
Google knows what you're looking for when you search. Adding too many unnecessary keywords can trigger Google to assume you are spam. If you keep your descriptions simple and easy to understand, you can expect that Google will deliver you to the right customers as a result. All while using as many relevant keywords as possible without saying the same thing again and again.
How can I find more relevant keywords?
Many people like to use automated tools to decipher which keywords and search phrases they should be using. I disagree with this method. It's important to understand how keywords are being used and that they're always relevant. Quick reports are typically assembled using an automated system that doesn't always capture the data correctly.
How do I find out what keywords my competitors are using? (H4)
What are some good keyword tools? (H5)
You are the best keyword tool. You know your industry better than an algorithm, in most cases. Another issue with generating keywords is that you fail to see what your competitors are doing. By researching competitors and taking notes on the key highlights on the different sections of their page, you can structure an article closer to successful competitors. The highest search results on Google are the best model for you to build on.
How do I know which keywords matter? (H5)
You don't have to use every single keyword you find, but it's worth taking the time to see how your competitors are using keywords to outrank you in search results. And typically you'll discover things you've missed.
Step 3: Understanding the importance of headers. (h3)
What are headers used for? (h4)
A header is usually seen as "H1" or "<h1>." The number of a header can be anywhere between h1-h6. These allow web crawlers (spooky robots that search the internet for changes) to index your website via a ranking system. The better the structure, the easier it is for Google to read. If Google likes it, it will show your post to more people searching relevant terms. Google makes money off of advertising. They want to optimize the time people spend looking at things to increase their chances of getting conversions (clicks, sales, etc.) from viewers traversing their site. Be visible.
Why are headers so important? (h4)
Google uses headers to ensure that information on a page is organized and formatted properly. They want to make certain that when people search on Google, they are finding the information that best matches their search criteria.
A header is the actual format in which the HTML is structured. This makes it essential to how search engines index websites. Utilizing that code is the first step to optimized visibility. For each header be sure to diversify the text. Crawlers know when you're duplicating headers and that negatively impacts your SEO.
Step 4: Optimizing Images for SEO (h3)
Uploading an image to WordPress (h4)
Many people overlook the importance of image optimization. The simple fact of the matter is that some people are searching for terms related to your imagery. If you provide a fast and easy option for those search parameters, Google is going to give you a better ranking. Your information is fast, relevant, and neatly prepared. What's not to love?!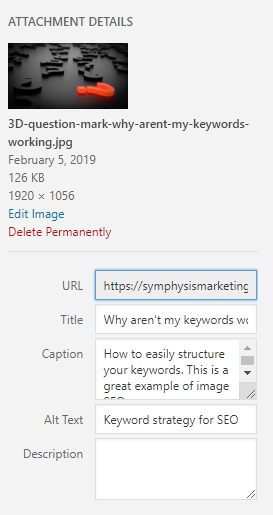 URL: This tells where the image is located.
Title: Used to organize your images.
Caption: Text displayed on hover or over an image in some cases.
Alt Text: Used by search engines to understand what the image is about.
Description: A great tutorial can be seen #here.
Remember not to fill out information directly about the image but rather about the section that the image is in. The image doesn't have to reflect anything but data relevant to the section it's placed in.
What are some important reasons to use images in my blog? (h4)
Using images for user navigation
The main reason I use imagery in my articles are for visual triggers. I help guide my users through sections and point to relevant information. This helps to provide a smooth journey through my article. Don't overdo it, it will ultimately affect your load time and can negatively impact your search rank.
Ever come back to an article to find a wall of text and a complete inability to locate where you left off? Yeah, you and 750 million other people. Just use the imagery. Check out Tip 6 on finding free high quality imagery.
The other reason is to add more content that is directly reflecting your written content. This can be done by optimizing your imagery as mentioned above in the first half of Tip 4.
Using images for SEO
And finally, it's all about the Keywords. Imagery should be relevant and contain similar information to the text surrounding it. Google can tell if you have a messy layout. Make a list.
---
Step 5: Writing a hook-line article title (h3)
Relevance to my audience (h4)
Use the keywords that your audience is searching. Understand that by using relevant keywords in your post, you increase your chances of your target demographics finding you.
Getting my message across (h4)
Your message should be the the question to your answer.
For example: I blog for a marketing firm. My customers are going to be searching for something along these lines:
"Why isn't my website getting traffic?"

John Doe
Owner
A Sinking Ship LLC
People who are going to be reading your information are desperate for information. The rest are potential customers. The more value your page has, the more visibility, and the more potential customers. Especially if you're selling a B2B service.
A few pointers on finding the right title. (h4)
GOOGLE IT! And when you're finished with that, scroll to the bottom and open some of the links in new tabs.

---
Example:
---
This will give you a plethora of search terms and relevant information. Doing this harnesses the power of a search engine to bolster your knowledge and ensures you aren't missing important factors, while giving you a clear idea of what people are searching for.
---

Have bad ADD? Better make that list.

---
Step 6: High quality images for blogs (h3)
Should I feel bad about using free images? (h4)
Absolutely not! But if you're a silly empathetic person like myself, you can always join a sharing community. These are online communities where everyone contributes and shares things such as images or videos. I frequently have to develop assets for my clients and choose to release many of them for free on the sharing communities that I use.
Many of these sharing communities label their uploads as "Commercial Free" which means that you can utilize this for your business for free. I have had hundreds of downloads on my uploads as well. Contributing to a community while being able to provide high quality imagery to your viewers is a fantastic capability.
Where can I find "Commercial Free" images? (h4)
There are many services available. It takes a bit of sleuthing to get the right one for you, typically I search, "Commercial free…" and then whatever I'm looking for.
For imagery I highly recommend Pixabay.com I have been able to leverage very large accounts with just the free access to high quality imagery. I often find an excuse to use my camera and justify it as working time. I then upload them to Pixabay where many people can use and share my work. I love logging in and seeing I've had more people download my images than I've downloaded myself.
If you can't contribute your own content, comment on their work. Comments go a long way for SEO. In fact, if you've made it this far, leave us a comment on how much you've appreciated this article to help us boost our visibility and help more people just like yourself.
What's wrong with being a renaissance man? (h4)

So you want to be a one man show? Cool. Can you build a light bulb?
Why would I need to know how to build a light bulb?

– My confused readers.

If you don't think you can create a light-bulb, then you have to get someone else to do it. Many professions like photography are over-saturated with amateurs, making people think that it must be an easy task. It's not.
Many photographers spend decades honing their skills. If you're trying to streamline your business model or blog, you need to make the best product possible in the fastest time. Utilize your resources and don't try to reinvent the lightbulb.
Disclaimer: If you can create a light bulb, I assume you're capable enough to do many other things. Trust your experience level and be reasonable.
---
Step 7: Back-linking a blog (h3)
What are back-links? (h4)
Back-links are hyperlinks in your text that can go to other destinations on and off of your website. Follow the link in the previous sentence for a more in-depth look at hyperlinks.
Are back-links important? (h4)
Many people say that back-links are no longer as important as they used to be. I highly disagree. If your users are traveling onto your website, off of your website, and then back. This looks incredible to the search engines tracking those cookies. Follow the link for more on cookies.
Having the right back-links is the most relevant thing. I don't try to add a back-link in every paragraph. I just add them where I think people may have questions about the topic at hand. Using back-links as resources is the only way that it should be used.
---
Step 8: Understanding Search Engine Optimization (h3)

How does Google know what's on my website? (h4)
Google uses something called a web crawler or spider.
These are programs that search for changes in file directories of websites. These files are named:
Sitemap.xml & robots.txt
Utilizing these programs, companies like Google and Yahoo can index or store large amounts of details like keywords to help navigate users to your website. Always ensure that your sitemap.xml and robots.txt files are properly updated and contact a trusted web developer or marketer who has experience with this. Done correctly, it can produce very quick results. Google also offers a couple million results on the topic if you're a self-starter.

Then there's the guy on YouTube:
How do I know if my SEO plug-in is working? (h4)
If you're asking this question we have another problem. A plug-in is not a solution. A plug-in is a module for inputting the solution. Plug-ins are meant to help you gain access to solutions for your website. For instance, an SEO plug-in is an interface for you to easily organize information that will "Plug into" other sections of the coding for your website.
How do I find a reliable SEO plug-in? (h4)
Make sure to read the full description of your plug-in and feel free to venture into the great world of YouTube or other marketing blogs for reviews and feedback on the millions of plug-ins in the world.
---
Step 9: Details about making a post (h3)
How long should I make my blog/article?
According to a 2016 study, an article on Google gets best results around 1800 characters. A more in depth analysis can be seen here.
Our recommendation is 2000 words, and more is better. We believe that a user should be well-informed and have their questions answered. The internet is supposed to be a place of vast information. If you want to play the information game, you need to make users feel informed.
How do I know if my blog/article is getting seen?
For this you'll likely need to install an analytics tool. Google analytics is the weapon of choice, and it's free. Here is a tutorial on setting up Google analytics with WordPress. If you're using a different style of system, just search for literature or follow the Google guide.
Another great method is to ask your audience to interact with you. This also awards relevant interactions on your page.
---
Step 10: A working model (h3)
Did you remember to make a list?
What questions are your users asking? (h4)
This should be a reasonable and in-depth answer for your users. Include resources such as back-links to help guide viewers through your article.
How can I provide clearer information? (h5)
If your users feel confusion they may not stick around long. Be sure to use visual indicators like images and H1-H6 headers to provide an easy to navigate environment. Read over your article sentence by sentence and make sure that it's clear and understandable. Ensure you haven't gone on a tangent and lost your scope.
Where can I find content for my article?
As mentioned in tip 5 you should do research on the keywords you can think of and compile a list of information that may be useful to your audience. Also, use an image to describe what you're talking about. Snipping tool is amazing.
---
Thank you for reading this guide on optimizing your article or blog.
As a guest writer of Atheists World we request that you show your appreciation by commenting, sharing, or citing this article in your post.
This article was mainly directed at WordPress users. Our services are not limited to WordPress. Feel free to comment below with suggestions for articles you would be interested in reading.
– SMS Writing Team